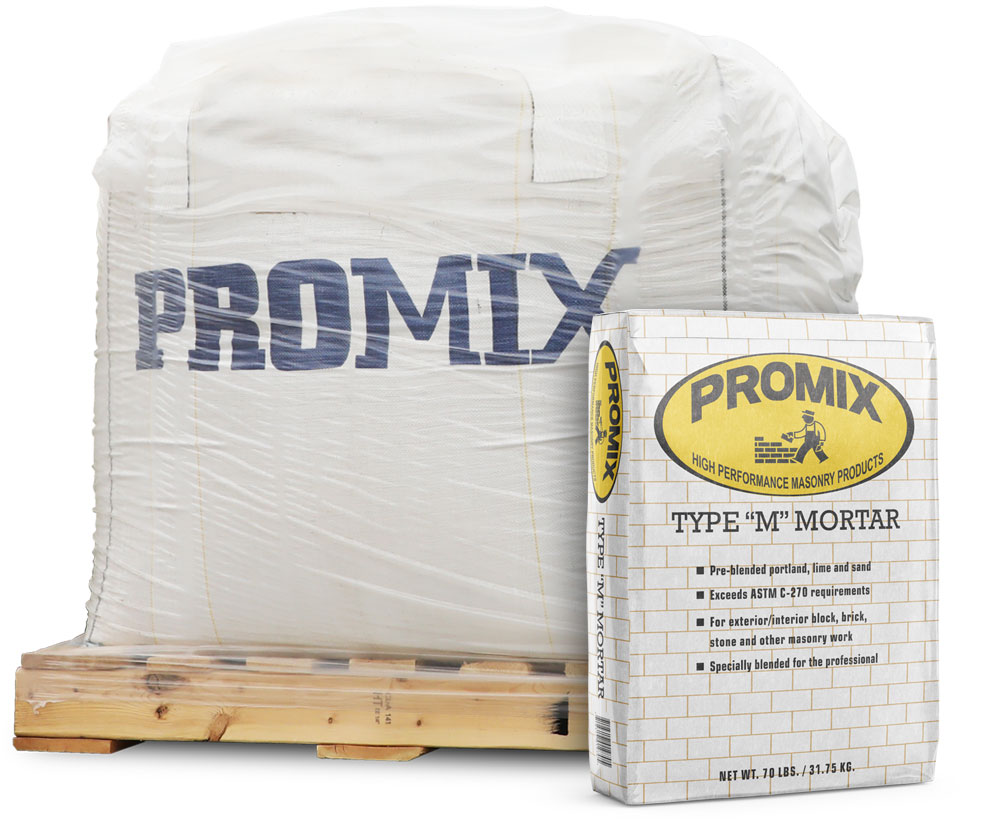 PROMIX® Type "M" Mortar
Exterior / Interior Brick
Non-Load Bearing Block
PROMIX® Type "M" Mortar is a contractor grade mortar designed for laying concrete masonry units, brick and manufactured stone products. PROMIX® Type "M" Mortar is a pre-blended product using Portland Cement, lime and well graded masonry sand. The standard formulation meets or exceeds ASTM C-270 Type "M" specifications.
DIRECTIONS FOR MIXING:
For each PROMIX® Type "M" Mortar 70 lb bag add seven (7) pints of fresh potable water to mixer. Turn mixer on and begin to adding mortar mix to the mixer. If the material becomes to difficult to mix, add additional water until a workable mix of trowelable consistency is obtained.
Note that the final water content should be from 7-12 pints per 70 lb bag.
ASTM C-270 PROPERTY SPECIFICATION:
| | | | | |
| --- | --- | --- | --- | --- |
| MORTAR | TYPE | AVG. COMP. STRENTCH (28 DAYS @ MIN. PSI) | WATER RETENTION | AIR CONTENT |
| Cement / Lime | N | 750 | 75% | 12% |
| Cement / Lime | S | 1800 | 75% | 12% |
| Cement / Lime | M | 2500 | 75% | 12% |
ASTM C-270 SELECTION GUIDE FOR MASONRY MORTAR:
| | | |
| --- | --- | --- |
| LOCATION | BUILDING SEGMENT | RECOMMENDED / ALTERNATIVE |
| Exterior - Above Grade | Load Bearing | Type S / Type M |
| Exterior - Above Grade | Non-Load Bearing | Type N / Type S |
| Exterior - Above Grade | Parapet Wall | Type N / Type S |
| Exterior - At or Below Grade | Load Non-Load Bearing | Type S / Type M |
| Interior | Load Bearing | Type S / Type M |
| Exterior | Non-Load Bearing | Type N / Type S |